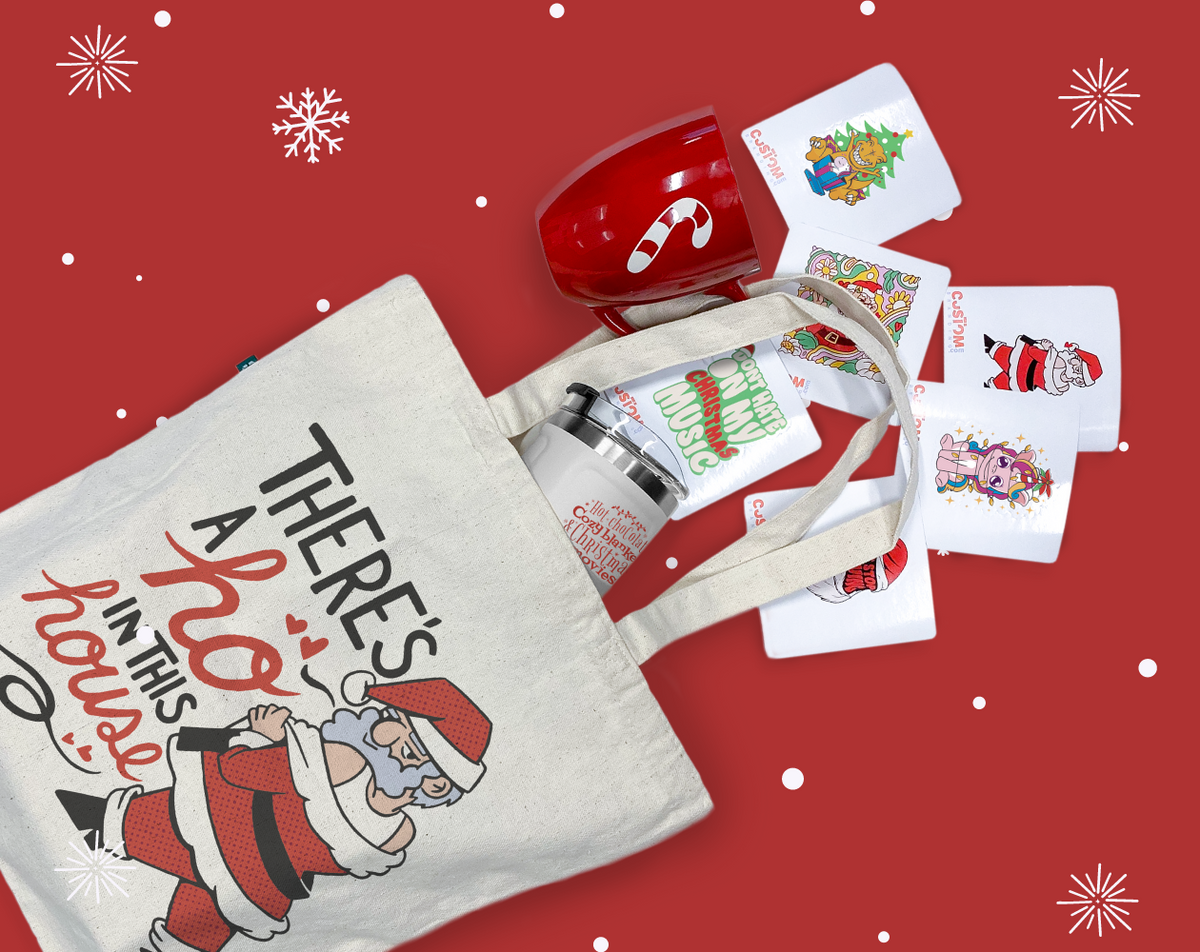 8 Budget Friendly Christmas Gift Ideas
Still looking for the right gift that's within a reasonable price range? You need something that can still have some functionality, looks great, and doesn't feel cheap. And kind of last minute? We have put together a list of products that hits all of these needs and can be personalized to perfectly fit the vibe of who you're shopping for. So check out our 8 budget friendly gift picks for this holiday season.
Canvas Tote Bags
We have a wide selection of canvas tote bags to choose from and even have a holiday and zodiac category to explore. These are made from recycled canvas, so your eco-friendly focused friend will love it. Plus, you can customize your own canvas tote bag and upload or pick out a design from our library. So those little inside jokes, some of your favorite memories, or maybe a quote that sums it up all in a neat little Christmas bow.
Lowball Tumblers
For the cocktail connoisseurs, or those that have the tendency to be a silly spilly, a lowball tumbler is an ideal present for the holidays. Each lowball tumbler is made with stainless steel and has vacuum insulation so you can kiss watered down cocktails goodbye. Whichever concoction is their go-to, it will stay the right temperature plus having a leakproof lid means they can use those crazy arm gestures, fearlessly swirl their drink, and stop staining your carpet.
Holiday Sticker Packs
Know someone that has their laptop case, water bottle, suitcase, or even their car covered in stickers? If you ask them, they really don't have enough and yes could always use a refresh on their collection. These are the perfect stocking stuffers for the sticker enthusiasts on your list. Plus, these packs have stickers great for kids so you can skip the second-guessing toys at Target and spend that time doing what you really want, which is getting stuff from the $1-$5 section. 🎵 It's me. Hi. I'm the problem, it's me 🎶
Flask
Everyone enjoys a good flask, especially if it has a personalized design on it so everyone will damn well know whose flask that is. Whether their vibe is minimalist, smooth and suave, or sparkly, we got you covered. The benefits of these are pretty self explanatory, so shop away.
Mugs
Whether they just went off to college, moved into a new place, or honestly don't care how big their mug collection gets, a customized mug is a pretty good choice. Skip the boring and common designs you see in stores and add a design that is totally unique. The laser engraving has a clean finish and will never fade and will outlive all of those old, lame coffee cups.
Can and Bottle Holder
These truly are a game changer and honestly is probably one of the best options on this list. You might as well get one for yourself too while you're at it because once you get one of these, you can never go back. Your beer, seltzer, sparkling water, soda, or whatever has delicious lovely bubbles will stay ice cold for hours and will be as bubbly as when you popped it open. Add a fun color print design or laser engrave their name so no one will wonder whose beer is whose. Whether you're at the tailgate or on the beach, you can forget about any warm, flat anything.
Keychains
This is something small, simple, and can easily pair with something else as a present. Also if you remember the first Christmas episode from The Office, there's an opportunity there. If you know you know. So if they are someone hard to shop for, a minimalist, or love to travel, this can easily work for them. Don't forget, you can add a personalization to these also. For pairing options, you could get an Apple Air Tag for the forgetful one, a gift card for the adventurous spirit, or a min bottle opener for the one that IS the party. 
Slate Coasters
Some of y'all, or your friends and family, really struggle with the concept of having some of those little things that truly graduate you to adulthood. Yes, we get it Mark, you've been to a lot of breweries and can tell how many hops an IPA has, but it's time to get something a little nicer than flimsy cardboard coasters. Add your name, a sleek design, or anything that matches your living room feng shui.