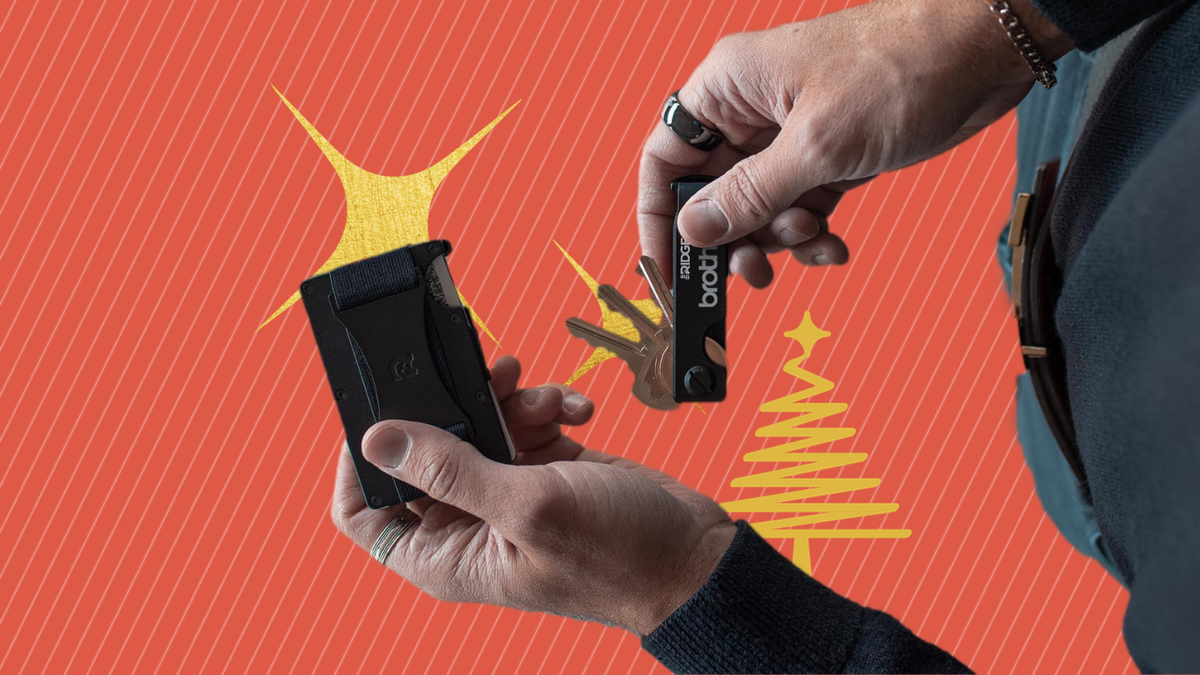 Men's Holiday Gift Guide 2023
The most wonderful time of the year is almost here, and you know what that means – it's time for the joy of gift-giving! Presents have a magical way of allowing us to express our love and appreciation for the special people in our lives. Specifically, let's talk about what HE will love. Whether he's your cherished dad, awesome brother, loving husband, amazing boyfriend, or your dearest best friend, we're here to help you discover the ideal gifts that will light up his holiday season. We've created a guide of our top gift picks for him this holiday season, all of which you can customize with his name or a design that totally fits his style.
The RTIC Ultra Tough Tote is an ideal gift for him, whether he's an outdoor enthusiast, a practical worker, or someone who simply needs a reliable tote for everyday use. It combines durability, versatility, and functionality, making it a thoughtful and practical gift choice.
There's nothing quite like a water bottle that keeps your water ice cold for hours, is easy to carry around, and durable. The Hydro Flask Wide Mouth Bottle and the Yeti Rambler Tumbler are all of those things and more. Not only do they both hold enough water to last throughout his day, but they are sleek and convenient. Add a touch of personalization with a custom design or his initials. From hitting the gym or staying hydrated during weekend errands, these insulated drinkware options are the perfect companions for his everyday routine. 
Brumate Multishaker 26oz stands out as a practical and versatile gift choice, especially for those with an active and health-conscious lifestyle. It offers the convenience of effortlessly mixing his daily protein shake, staying hydrated during and after his workout, and even a mid-day smoothie, making it an ideal present for his daily nutritional needs. Personalization options and a range of colors make this bottle a functional and thoughtful gift. 
If he is the outdoorsy type and loves to spend his weekends in the woods, then getting him a camp coffee cup is a must. The insulated stainless steel with interior copper lining will keep his brew hot for hours and the leak resistant lid will keep his drink safe from spills and splashes. This versatile and thoughtfully designed cup is the perfect addition to his outdoor adventures, daily commute, or sipping his favorite drinks at home. Made with high quality durability that can withstand the test of time, this mug will be his daily go-to for years to come.
The Polar Camel Beer Mug is built from solid glass that combines the classic look and that hefty fee. A fun and practical gift for him,  whether he's raising a glass during game night, a backyard BBQ, or simply enjoying a quiet evening, the Polar Camel Beer Mug adds an element of style to his happy hour. Add an extra touch of personalization by laser engraving or color printing his favorite sports team, name, or a funny design!
The Zippo Classic Lighter is a great and functional gift for him to use everyday. Its combination of quality construction and classic style is why this is the most popular stainless steel lighter in the world. Customize it with laser engraved initials, a special quote or design that represents him as a whole. Whether he appreciates it as a collectible piece or an everyday tool, this Classic Zippo lighter can be an intimate present or included with his stocking stuffers.
The Ridge Aluminum Wallet is a thoughtful and practical gift. Its combination of durability, minimalist design, RFID blocking features and personalization options make it a versatile and modern choice for him. Whether he's a trendsetter, a traveler, or someone who simply appreciates a more minimal and sleek billfold, this wallet allows up to 12 cards that can pop out in a fanlike fashion. The money clip on the back will keep his cash in a compact, separate spot for simplified organization. Make this gift even more special by adding his name or a subtle design that shows off his personality. 
Combining practicality with thoughtfulness and efficiency, the Ridge Key Case is the gift he will use everyday. The streamlined organization of all of his keys compacted into a sleek design, he can keep everything in one place instead of having certain keys in random spots around the house. And then asking you where they are. Customize it with his name, contact info, or a cool symbol so his new key case accessory stands out from the boring and messy key rings.
When he heads out on his next hunting trip, weekend fishing adventure or camping excursion, having a dry box that can protect his phone, wallet, and keys is the ultimate must-have. The Otterbox DryBox 3250 will keep everything inside dry and secure from the elements. It's extremely portable and can easily be stashed away when he heads out into the wild. This durable container can take a beating without any of his valuables or gear taking one too.