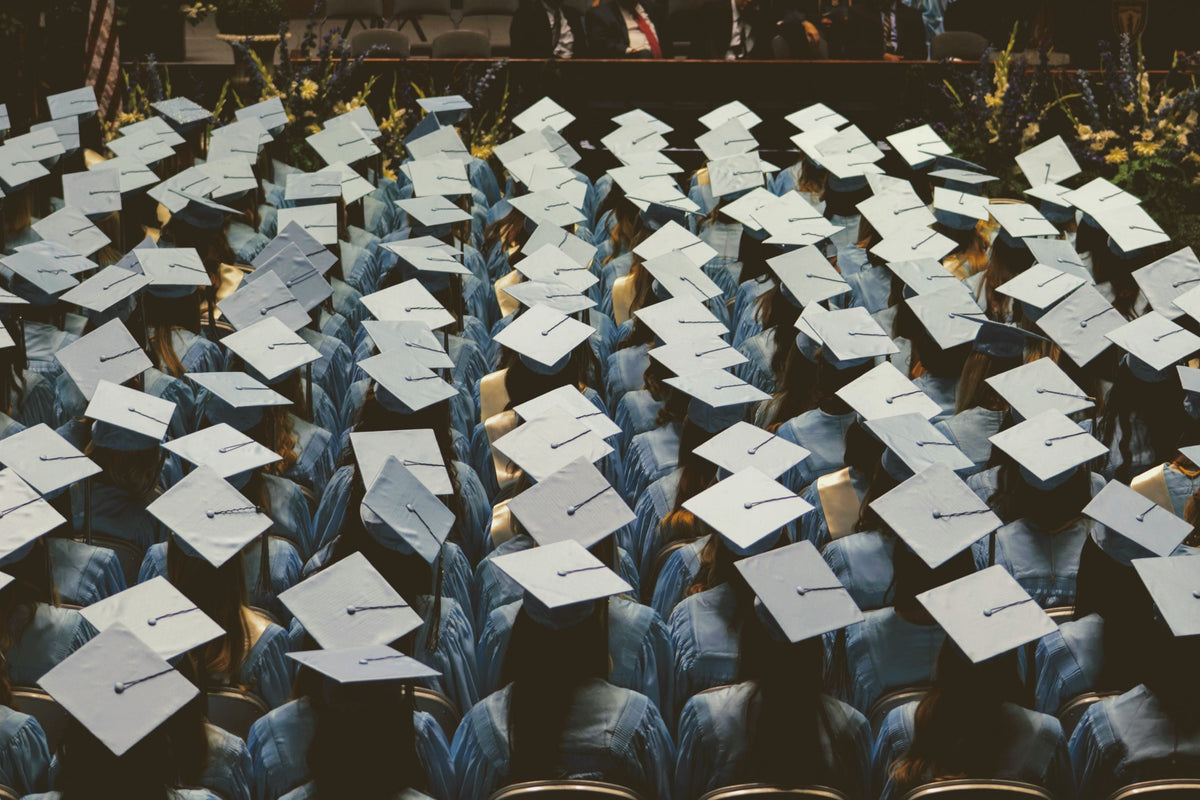 Unique and Custom Gift Ideas for Graduation 2023
The school year is wrapping up which means the sea of caps and gowns, endless looping of "Pomp & Circumstance", and the overall sense of relief is on the horizon. This also means trying to figure out the right gift to give to your graduate. The obvious answer is that sweet, sweet cash money, gift cards, maybe a new laptop, but that doesn't mean there aren't other options out there. A personalized gift is just as special and can be something they use in their everyday life as they move forward into their bright futures. Check out our unique and custom gift ideas for the graduates of 2023!


High School Graduates
They have one last summer before they leave the nest and live on their own for the first time. While you have the essentials list written down (that seems to somehow continue to grow as the move out date creeps closer), you don't want to forget to get them a personalized gift that they can use everyday as they begin their college experience. College can be a wild adjustment to your graduates' lifestyle and they will be on the go, from classes and club meetings to hanging out on the quad and going on weekend adventures.


They are heading off to college, which means a new backpack is at the top of their list. Unless they are trying to do the whole briefcase shtick because they're majoring in business. Oh freshmen. The RTIC Road Trip Backpack can be used on your future college student's daily commute to classes, hikes on the weekends with their friends, and those late night study sessions at the library. The articulated shoulder straps and adjustable sternum strap hugs tight to the body so there isn't unnecessary swinging or thumping on their back. The padded mesh back panel adds extra breathability and the rugged water resistant nylon fabric will protect their laptop and textbooks from the elements. Plus there is a ton of internal storage and pockets so they can pack up everything they need comfortably. 


Everyone needs tote bags. You can use it for the gym, grocery shopping, carrying around art supplies, or the university picnic. The imprint space is huge, so any design you print on one of these will truly be a standout and show off their personality. Our canvas tote bags are made from recycled material so it's a win for the planet and a win for your college student. You can pick out artwork from our extensive design library or upload a photo collage of their favorite pics (plus one of mom and dad because y'all there in spirit). Skip the wrapping and fill their custom tote bag with college essentials like a personalized tumbler or mug, soft fuzzy blanket, pencils and pens, that new pair of Airpod Pros they have been eyeing, gift cards, etc.


A TikTok approved gift, the Owala Freesip has been deemed the emotional support water bottle. For one, they come in unique color combos you won't find on any other water bottle and secondly the Owala Freesip bottle offers two ways to drink. Use the straw opening for easy sipping and the chug spout for when quick hydration is necessary. This will be with them through every class, workout session at the university gym, and post game days. Personalize their Owala with their name, contact info in case they lose it, and an inspiring design that will keep your little college student inspired. 
College is a brand new experience and having power in moments they need it the most will be greatly appreciated. The Otterbox Mobile Charge Kit can charge up to three different devices at once, including Lightning, USB-C, and Micro-USB. They can charge their and their new college friends' phones and focus on making memories and not on scrambling to find an outlet. Add a bright, color print design on the battery to match their style.  
For the graduate that loves to be the life of the party, travel to new places, and get lost in nature for a while, a backpack cooler is the perfect gift. The Icemule Backpack Cooler has a crossbody strap so they can take on any adventure hands-free. Keep drinks and lunch fresh all day and once they start to work through their snack stash, they can roll down the cooler into an even more compact pack. This is going to be their go-to accessory for all things spring break, weekend lake trips, and most importantly, tailgating. 
A bouquet of flowers is always a great gift when celebrating a huge accomplishment but what about flowers that won't wilt and die after a few days? Our Spring Meadow tumbler is the perfect floral-inspired graduate gift that they can enjoy everyday. If you have heard the words "cottage core" or "fairy core" from your teenager, then this tumbler will fit right into their aesthetic obsession. They can enjoy their iced coffees and water ice cold for up to 24 hours and soothing teas perfectly hot for 12. 
College Graduates
They made it through the last school year of their lives and it's time to step out into the real world, officially. Now obviously student loan payments will be creeping up faster than anyone wants them to and cash gifts/gift cards are going to be their top request. But that doesn't mean you can't get them an extra gift or two to help their transition into their new job. Having a lunch tote that has that professional feel, a customized travel mug to get them through their morning commutes and accessories that make setting up their new place in the city a little less stressful.
Your graduate is officially in the adult working world now which means they are going to be cash-strapped and probably packing lunches often. Having a sophisticated lunch bag customized with their monogrammed initials combines that fashion-forward style with a professional, clean feel. The faux-leather Igloo Luxe Satchel Cooler Bag uses Advanced MaxCold insulation to keep drinks and food colder for longer. Use the grab handles or the removable crossbody strap so you can choose the best way to carry. The interior lining is antimicrobial and leakproof, so you don't have to worry about mold buildup and it's easy to clean. Plus when the weekend hits, the satchel can fit up to 15 cans for those patio and BBQ parties.
When they graduate college, they're not only thinking about getting a job but they're also thinking about all the things they will need to make this transition as smooth as possible. The RTIC Ultra Tough Tote Bag is a triple-threat; puncture-resistant, doesn't tip over, and can be customized. Use either of the interior or exterior water resistant zipper pockets to keep phone, keys, and wallet safely tucked away and the main pocket for farmer's market trips, beach excursions, and anything else life throws at them. After a long day of adventuring, they can simply hose off their tote and get it ready for the next one.
A high quality water bottle will stay with you for life. So get them a custom water bottle that they will have by their side, from their work desk and gym to camping trips and music festivals. The Hydro Flask Standard Mouth Bottle will keep their water ice cold for 24 hours and fits right into most backpack pockets, cupholders, and comfortably fits in your hand. Everyone has a Hydro Flask, but barely anyone has one customized with their own design that shows off their vibe. 
We can all correctly assume your graduate's drinkware selection is probably leaning more towards the plastic, red solo cup-esque side and they could use a decent upgrade. Getting them a nice set of rocks glasses or champagne flutes engraved with a sentimental graduation memento to celebrate this huge milestone is something they will truly appreciate and break out on special occasions. Throw in popping a bottle or pouring a glass as a fun way to surprise them with this thoughtful gift.
Transitioning from having classes at random times for four years, and probably some part-time shifts tucked into their spare time, means that your college student-turned-grad hasn't had a consistent schedule for a while. And while getting used to a new routine, waking up early enough to enjoy a cup of coffee at their kitchen table while reading the news isn't quite on the horizon of possibility yet. So an insulated travel mug is the perfect graduation gift. The Brumate Toddy XL is cupholder friendly, has a comfortable ergonomic handle, and will keep their preferred brew hot for 6 hours. Laser engrave their name, college mascot and graduating year, or a positive affirmation to get them through their first real experience of that morning rush hour traffic. Breathe kid, just breathe.
In life you need to be adaptable, so having a can holder trio that can take on any scenario is a necessity. Enter the Brumate Hopsulator Trio, the perfect party partner. Use the insulated can holder for your craft beers and tall boys, a freezable adapter for 12oz seltzers, or use the can insulator and lid for beer kegs or at the local brewery. Adding a vibrant color print design or sleek laser engraved name will be the standout in a crowd of worn out neoprene coozies.