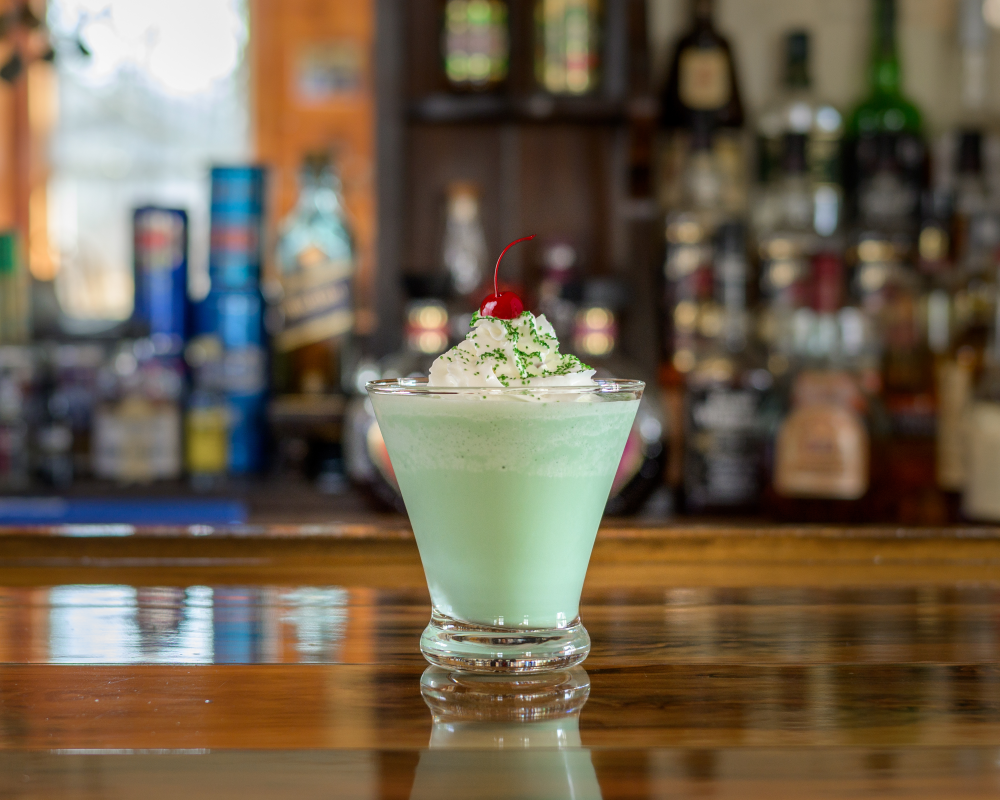 7 St. Paddy's Cocktails That Will Have You Feelin' Lucky
Things are starting to look a little green. The trees are coming back to life, rainbows are shining after a fresh rain shower, and we swear we spotted a four leaf clover the other day. Not only is Spring on the horizon, but so is one of the greatest, and greenest, holidays celebrated around the world. St. Patrick's Day. For those looking for more than just a cheap green beer, Guinness infused everything, and the Shamrock Shake from McDonalds, we have collected 7 cocktail recipes for you to feel that Irish spirit. See what we did there?


The Irish Maid
There is nothing more Irish than Irish whiskey. Well unless you have a red-headed Irish lad or lady legging it to their local pub for a drink themselves. This is a nice, refreshing cocktail that will give a much-welcomed lighter note in between all of the corned beef hash, cabbage, and endless sides of potato you may find yourself feasting on. This is a great intro to Irish whiskey for those that have yet to try, with the mix of lemon juice, cucumber, and elderflower creating a lovely flavor palette.
Ingredients: 
2 slices cucumber
2 ounces Irish Whiskey (can't go wrong with Jameson or Tullamore Dew)
½ ounces of St. Germain Elderflower Liquer
¾ ounces simple syrup
¾ ounces lemon juice (freshly squeezed if you can)
Directions: 
Muddle some cucumber at the bottom of a cocktail shaker. 
Add the ice and other ingredients. 
Shake vigorously to combine. 
Strain into a cocktail glass. 
Garnish with cucumber slices.
Source: Fox and Bria 
Guinness Bloody Mary
We can definitely see us reaching for this concoction the morning of St. Paddy's or the morning after. Nothing like a good bloody to keep off that classic sunday scaries hangover. Now this cocktail is something we can definitely get behind because basically you just switch out what would be a Corona with Guiness. And honestly, some darker stout flavors could be a game changer. We definitely will be making these come the morning after, trust and believe.
Ingredients:
Guinness
Bloody Mary mix
If y'all really want to go all the way and make this from scratch, just follow the source below. But you're not going to have any time for that the morning after hitting the bars with your fellow leprechauns. 
Directions:
Throw some ice in a glass, pour in that vodka, mix, and top with your Guinness.
Again, follow the source down below if you want to get down into the nitty gritty.
Source: Guiness
Black Velvet
This cocktail combo is on the other side of the morning mixed drink spectrum. Basically you take your some champagne and any stout, and in this case Guiness because you're not celebrating properly if you don't, and pour half of each into a champagne glass. It's supposed to give a silky, velvety vibe to it and may remind you of chocolate covered fruit.
Ingredients:
90 ml or half a flute of Guinness Original
90 ml or half a flute of champagne
Directions:
Pour guinness in glass first halfway
Pour champagne into glass on top of guiness
Duh.
Source: Guiness
Boozy Shamrock Shake
Yes, we heard getting a Shamrock Shake from Mickey D's can transcend you into full leprechaun mode for a few seconds, but why not make your own? With booze? And not worrying about their ice cream/shake machine being down. 
Ingredients:
4 cups vanilla ice cream
¼ cup milk
2 oz Creme de Menthe
2 oz Vanilla Vodka
Green food coloring
Whipped cream (add some sprinkles and Lucky Charms if you're really feeling that shamrock magic)
Directions:
Combine all ingredients in a blender, blend until smooth
Top with all that leprechaun magic!
Source: Spend Pennies
Lucky Leprechaun
We're all looking to find some kind of luck on St. Paddy's Day, but honestly it may just be in this special little cocktail rather than at the end of the rainbow somewhere. And with the different liquor ingredients in this, we may be feeling lucky after the last sip. Hell, we might even convince ourselves we really are Irish (even if it's just like 12%) and that our friend is really a leprechaun. But it's best to caution, whatever happens on St. Patrick's Day, stays on St. Patrick's Day.
Ingredients:
1 ounce of Southern Comfort
½ ounce of Midori Melon Liquor
½ ounce Malibu Rum
6 ounces pineapple juice
1 dash of Blue Curacao
Lime wedge for garnish
Directions:
Mix in shaker
Pour over ice
Add that lime garnish
Source: Food.com
Shamrock-arita
We know some of y'all just have to make everything a margarita. We don't blame you, they're the drink of choice when you need to vent over chips and queso about some crazy -ish going down. And on St. Paddy's, there is plenty of crazy to be a background spectator to. So get your donnybrook on with this margarita recipe and soon you'll be heel clicking with the best of them.
Ingredients:
1 Granny Smith apple
½ oz fresh lime juice
1 lime wedge
Sparkling sugar or flaky sea salt
1 ½ ounce tequila blanco
1 ounce apple liqueur schnapps
½ ounce triple sec
Directions:
Slice apple from top to bottom in ¼ inch rounds. For extra fun, use a shamrock cookie cutter. Place in a small bowl and toss with some lime juice.
Rub lime wedge around him. Dip dip into sparkling sugar on plate.
Combine tequila, schnapps, triple sec, and last ½ ounce of lime juice and ice in cocktail shaker.
Shake until outside of shaker is super cold and you see condensation like the rains of Ireland. (about 30 seconds)
Strain into your glass and garnish with the shamrock apple.
Pot of Gold
At the end of every list, thanks for staying with us by the way, is a pot of gold. This cocktail will definitely give you a little touch of summer vibes, which of course we all can't wait to get to. But for now, this little mixture balances both Spring and Summer and is a nice break from the green tinted everything.
Ingredients:
2 ounces sour apple schnapps
2 ounces coconut rum
4 ounces pineapple juice
Maraschino cherries for garnish
Directions:
Combine all the liquids in a shaker filled with ice.
Shake until it gets super cold, usually in about 30 seconds, if you know how to shake what your Irish momma gave ya.
Pour into a tall cocktail glass and garnish with those cherries.
Source: Real House Moms