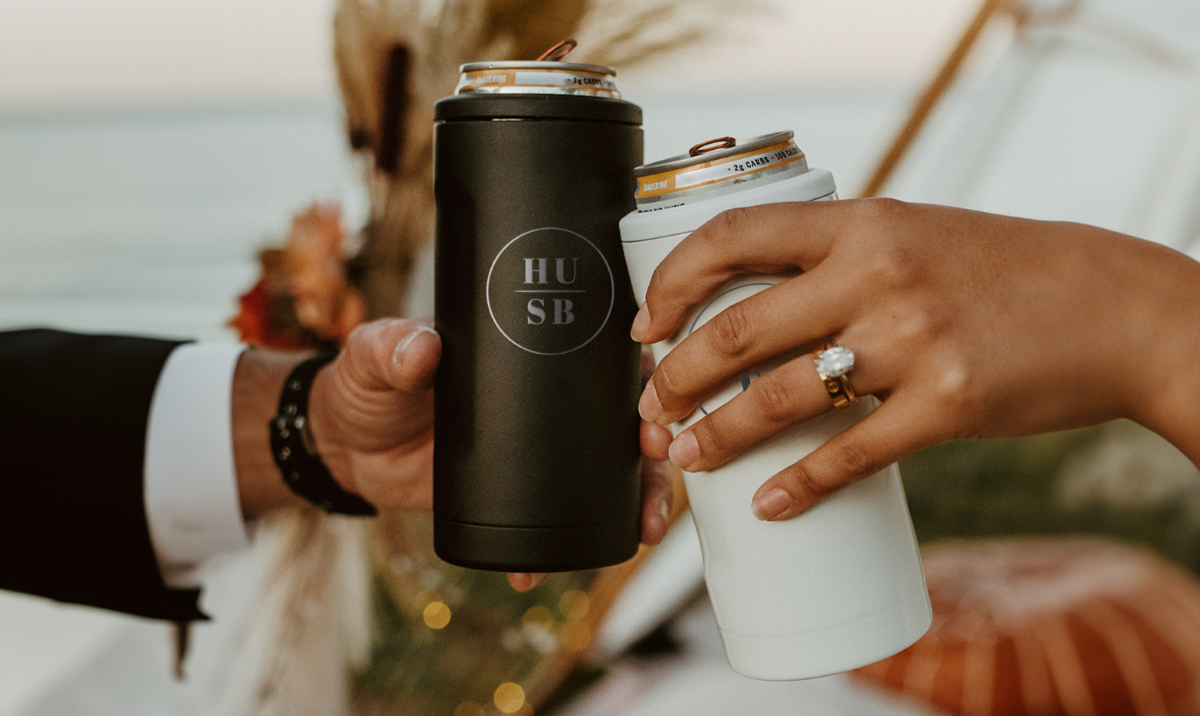 Personalized Can Coozies - The Perfect Wedding Detail
A memorable and unique wedding lies within the details. From the venue, to personalized favors, to over the top dessert bars - details matter, and they make your wedding authentic to you! A reflection of you and your soulmate are found in the personal touches that are woven into your special day. It's found in the meticulously curated playlist that serenades the night, in the heartfelt toasts that reflect a lifetime of memories, and in carefully etched napkins. Weddings are ultimately about infusing the couple's love story into every aspect, and what better way to do that than by incorporating personalized can coozies into your special day.
Including customized insulated can holders means including never ending fun and infinitely cold drinks - what could be better? Picture this: as you dance the night away and create lasting memories captured by the photographer, you raise your glass for countless toasts - and your drink is STILL cold! On top of that, at Custom Branding you can customize each one with laser engraved or color printed designs that perfectly fit your special day. You can easily personalize your own can coozies with your new last name, wedding date, and even a special graphic that is specific to you. 
When your special night has come to an end, you can even gift these as a favor for your guests! Insulated can coozies make for practical and fun favors that guests can use long after the wedding is over. They serve as a memento of the celebration and everytime they use it, they will be reminded of the joyous occasion. Plus, they keep your drinks cold longer than the cheap neoprene sleeves that everyone has way too many of.
For couples hosting a larger wedding, but still wanting a customizable and authentic touch, customizable coozies are a great gift for any wedding party. Gift your loyal bridesmaids and groomsmen a customizable coozie that will remind them of the special role they played on your one of a kind day! Add their initials, the wedding date, or even nicknames for that extra personal touch to show your appreciation. 
Need ideas of which can coozies to choose? Check out our top 5 picks!